Heater Selection & Sizing
Determining the Size of your Duct Heater
A one KW heater will produce 3,413 BTU's per hour. If you know the CFM of your air handler and the temperature rise needed, you can use the chart below to approximate the KiloWatt rating of the duct heater needed for your application.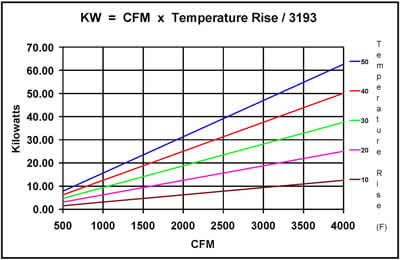 For example: If you need a 40 degree temperature rise, and your air handler puts out 2000 CFM, identify the point at which the 40 degree temperture rise line intersects with the 2000 CFM line and you will see that a 25 KW heater is needed to do the job.
Rated Voltage
Most heaters are designed for a rated voltage. If your site has a voltage above or below rating, (it will usually be below the rated voltage), your heater will generate a different output.
A 240 V rated Heater with a supply of 230 V will yield only 92% of its rated output.
A 240 V rated Heater with a supply of 220 V will yield only 84% of its rated output.
A 240 V rated Heater with a supply of 208 V will yield only 75% of its rated output.
Electric heaters are purely resistive loads, amperage will decline with applied voltage.
MINIMUM AIRFLOW REQUIREMENTS
To operate properly, duct heaters need minimum quantities of air flow. An inlet air temperature of 77F will require approximately 65 CFM of air flow per KW, that is typical for straight cooling. When operating a heat pump with inlet air temperature of 110F, approximately 120 CFM of air flow per KW will be needed. Check our Installation Manual for final Airflow determination. (The above is a conservative "Rule of Thumb" if the heater fills the duct).
HEATER PERFORMANCE FORMULAS

MULTIPLIERS FOR DETERMINING THE AMPERAGE DRAW OF DUCT HEATERS
| | |
| --- | --- |
| 1 Phase @120 Volts KW times 8.333 | 1 Phase @208 Volts KW times 4.808 |
| 1 Phase @220 Volts KW times 4.545 | 1 Phase @230 Volts KW times 4.348 |
| 1 Phase @240 Volts KW times 4.167 | 1 Phase @277 Volts KW times 3.610 |
| 1 Phase @480 Volts KW times 2.083 | 1 Phase @600 Volts KW times 1.667 |
| 3 Phase @208 Volts KW times 2.776 | 3 Phase @220 Volts KW times 2.624 |
| 3 Phase @230 Volts KW times 2.510 | 3 Phase @240 Volts KW times 2.406 |
| 3 Phase @480 Volts KW times 1.203 | 3 Phase @600 Volts KW times 0.962 |
MAXIMUM KW PER CIRCUIT AND BEGINNING OF OVERCURRENT REOUIREMENTS
Voltage
120V
208V
220V
230V
240V
1 Phase
5.76
9.98
10.56
11.04
11.52
3 Phase
------
17.29
18.29
19.12
19.95

---

Voltage
277V
460V
480V
550V
600V
1 Phase
13.29
22.08
23.04
26.40
28.80
3 Phase
------
38.24
39.90
45.72
49.88
Note: ln each group throughout the Price Lists, the highest KW for a particular voltage and phase without circuit fusing is listed, just before a Heater with an asterisk after the price.
SELECT CAREFULLY AND SAVE !!!
Substantial cost increases result when additional elements, controls and/or circuits are required. We are not suggesting that you purchase less capacity than you need but sometimes a lower KW will be quite adequate and will save you a bundle!!!
Example: If an 11.5KW Heater @ 240V 1 @ will do the job, why use the 12KW Heater @ 240V costing at least 40% more because it is over the allowable 48 Amps per Circuit and requires costly Overcurrent Protection.
Example: If the situation is right and a good safe job can be done, it might be well to consider the installation of separate Heaters, each rated less than 48 Amps and not requiring Overcurrent Protection from the factory. Possibly a Heater in each duct branch or more than one Heater in the main duct could be used. Our Heaters are Listed so that this may be done in a ganged fashion to fill the cross- sectional area or one after the other if the inlet to any Heater is 110'F or less.
FIELD WIRING OF DUCT HEATERS
Field Wires to Heater Controls Compartments or Fuse Panels must be Copper suitable for 75'C (1 67'F). In the following table we show actual maximum load permitted which is 80% of the total ampacity of the wire when there are 6 or less conductors in a conduft and 70% when the conductors exceed 6. U.L. requires that a neutral be counted as a conductor in units rated 120 or 277 Volts. However, they do not require that you count grounding wires.
Note:
Heaters with built-in fusing are designed to accept field electrical supplies as follows:

1 Ph. 20 to 48A @ 208 to 600V-1 Supply
1 Ph. 49 to 144A @ 208 to 240V-1 Supply
3 Ph. 24 to 48A @ 208 to 600V-1 Supply
3 Ph. 49 to 96A @ 208 to 240V-1 Supply
3 Ph. 97 to 144A @ 208 to 240V-1 or 3 Supplies
3 Ph. 49 to 96A @ 300 to 600V-1 or 2 Supplies
Option: Item just above - 1 Supply most other heaters have provision for 48A, or 96A supply circuits in multiple. Heaters requiring circuit fusing are also available with smaller control boxes and a seperate U.L. Listed Remote Fuse Panel. Consult Factory for additional information.
TEMPERATURE EQUIVALENT TABLE
For other equivalents not listed in table use following formulas:

Fº=Cº X 1.8 + 32º
Cº=Fº - 32º / 1.8
Electric Resistance Heat Values can be found by direct application of Ohm's Law and other known electrical values or equations. Formulas and applications considered are limited to those of benefit to people involved in sales or service of Electric Duct Heaters.

In Formulas and Applications considered below: The square root of 3 (3) = 1.732

P = Watts
E = Volts
KW = 1,000 Watts
I = Amps
R = Ohms
1 KW = 3,413 BTUH
FORMULAS AND APPLICATION:
I = P/E or
Amps = Watts + Volts

EXAMPLE: To determine the Amperage draw of a 9.8 KW Heater at 208V Single Phase, divide Watts by Volts as per formula. (9800 + 208 = 47.1 A) For a balanced load Three Phase Heater the Single Phase answer is divided by 43. (47.1 + 1.732 = 27.2A)

P =EI or
Watts = Volts X Amps

EXAMPLE: To determine the KW of a 240V Single Phase Heater drawing 40 Amps, multiply Volts X Amps as per formula (240 X 40 - 9600 Watts or 9.6KW). For a balanced load Three Phase Heater the Single Phase answer is multiplied by @ (9.6 X 1.732 - 16.63KW).

USEFUL IN HEATER SELECTION: To determine how much KW you can connect to a limited available Amperage and/or wire size. You may not want to exceed a 48 Amp Circuit which would add considerable expense for Circuit Fusirig required by U.L. and National Electric Code.

EXAMPLE: You need a Heater not more than 48 Amps at 240V Single Phase. Multiply Volts X Amps as per formula (240 X 48 - 11,500 Watts or 11.5KW). For a balanced load Three Phase Heater, the Single Phase answer is multiplied by iq (1 1.5 X 1.732 - 19.9KW).

P = E²/R or
Watts = Volts Squared @ Ohms

This formula is used to derate the Heater output (Watts) when a lower voltage is applied. Element Resistance (Ohms) remains the same so the reduced output is directly related to the square of the Voltage change.

EXAMPLE: You have a Heater rated 19.6KW, Three Phase at 24OV, 47.2A. and want to connect R to a 208V supply and determine the new KW output. Proposed Volts squared divided by the rated Volts squared = the multiplier. 208 x 208 _ 43.264 _ .75 This .75 x 19.6KW at 240V - 14.7KW at 208V. 240 x @40 57,600

Note that the Amps go down at the reduced voltage. Using the first formula above for Three Phase, 14,700 divided by 208V - 70.7 Amps and that figure divided by il (1.732) - 40.8 Amps.

For further examples of connecting Heaters to lower voltages please see the chart that has been worked out on the back of this page. You will note also that the Wattage and related BTUH drop at a faster rate than the Amperage.
CONNECTING TO LOWER VOLTAGES
When a heater with fixed resistance in ohms is connected to a lower than rated voltage, the Wattage and BTUH output as well as Amps will be reduced as shown in the Chart below.
CONNECTING TO HIGHER VOLTAGES
NEVER connect a Heater to a higher voltage than the Data Plate ratingl Just as the output drops with lower applied voltage, it increases even more rapidly with a higher voltage.
Heater
Rated
Voltage
Lower
Applied Voltage
% of Heater
Wattage and BTUH
% of Heater
Data Plate Amps.
600
575
550
92%
84%
96%
92%
480
460
440
92%
84%
96%
92%
277
265
254
92%
84%
96%
92%
240
230
220
208
201
92%
84%
75%
70%
96%
92%
87%
84%
208
200
190
92%
84%
96%
92%
120
115
110
92%
84%
96%
92%
EXAMPLE: Connect 240 V to a 208 V Heater, 17.25 KW, 3 Ph., 47.9 Amps.
RESULT: Heater output increases to 23 KW drawing 55.3 Amps at 240V.
Amp Draw is now over the 48 per circuit allowed bu UL and NEC
The Element output is now at 1/3 more than factory design limit.
Contactor and other component capacities may be exceeded.
Safe Wattage Density may now be exceeded and Heater short cycles.
UL Label and Warranty are VOID!!
Product Liability passes from us! YOU WILL HAVE PROBLEMS!!!
RESISTANCE IN OHMS CALCULATED FOR VARIOUS HEATERS
You are not generally required to know the Ohms of Elements in a Heater unless you need replacement(s) and, even then, you would specify the KW, Voltage, Phase etc. from the Heater Data Plate with the KW per Element determined by dividing total KW by the number of Elements. Sometimes it is necessary to know the Ohms for replacements, particularly for Three Phase Heaters. You may measure the total Ohms of two or more pieces and, when possible, supply nameplate data, Element coil O.D. etc. A review of some sample formulas below will show that it is important to be able to distinguish between Delta or Star (Wye) Three-Phase construction.
| | |
| --- | --- |
| R = E/I or | Resistance in Ohms = Volts divided by Amps. You may apply this formula when you have a single element Heater or when you have an Amp reading of just one Element of a Single or Three-Phase, Delta-wired Heater. Each Element is calculated as Single Phase. See note below to get Cold Ohms. |
| R - E2/P or | Resistance in Ohms - Volts squared divided by Wafts. This formula can be used except for Three-Phase, Star Connected Elements. See "Basic Electric Heat Wiring Diagrams" to help identify Star (Wye) Elements. In a Star-wired set of Elements, you divide the Voltage by V7 (1.732) and then proceed to calculate Resistance by the Formula. EXAMPLE: Take a 20 KW Heater, Three-Phase at 240V. with 6 Elements, 3,333 Wafts each that are designed as two 10 KW, star-wired sets. 240 V divided by 1.732 = 138.6 V to be used when applying the Formula. 138.6 squared = 19,210. This divided by 3,333 = 5.76 Hot Ohms each. NOTE: Ohms calculated by formula must be reduced by 5 to 10 percent to allow for the extra Resistance an Element will have when R is heated. This answer is now Cold Ohms that we use in Element design. The proper wire gauge must be chosen to result in enough surface area to dissipate the heat and avoid premature failure. |