Coldpoint
B P C O S E R I E S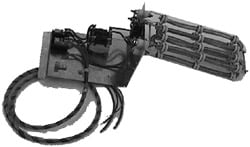 ARL Listed-L/N 28916 Section 9
Zero Clearance
Load carrying primary protection
Requires electric heat thermostat
Optional single point power
BCPO-KW-Phase @ Volts
.5-20, 1 OR 3 Phase @ Volts, 208-480 Volts
Note: 20KW for PCA36 and larger, or PHA48 and larger
FITS
COLDPOINT
PCA 24,36,48,60
PHA 24,36,48,60
I N S T A L L A T I O N I N S T R U C T I O N S
FOR BCPO HEATERS IN COLD POINT PACKAGE UNITS
Units:
PC 24 - 60
PH 24 - 60
Note: 20KW Heater for 3 - 5 ton PC and 4 - 5 ton PH Units ONLY
DISCONNECT ALL POWER BEFORE STARTING HEATER INSTALLATION
These heaters are designed to mount in the discharge air compartment of the indoor blower. Remove the access panel from the side of the unit. Remove the sheet metal knockouts from the unit bulk head. Carefully insert the heater and secure with sheet metal screws (2).
Connect heater control wires to terminal block in unit electrical compartment.
Match colors and follow labels at terminal block.
IMPORTANT: Units require a thermostat that interlocks the indoor blower with electric heat.
Connect A/C unit power wires from heater to lugs provided in A/C unit electrical box if single point power supply is desired. Route through snap bushing in A/C electrical compartment. Remove and discard those wires from heater if two supplies are used.
Attach heater rating label next to unit rating label. Calculate minimum circuit ampacity and maximum circuit protection sizes from information on back of this sheet. Write those figures on the heater rating label (use waterproof ink) and check heater only or combined electrical supplies. Field power wiring must comply with the National Electric Code ( NEC ) and any local code ordinance.
Replace unit access panel.